Windows and Doors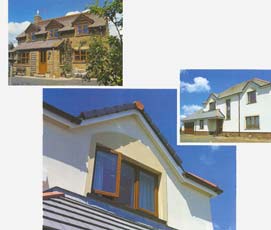 Windows are the eyes of your home, they let in the light of course but they also give you a view of the outside world. They let in the air when it's fresh and keep out the weather when its cold, windy or wet.
A carefully chosen window enhances the appearance of your home. Our extensive experience and range has a whole array of windows and doors to blend in perfectly with any home, whatever its size style or vintage.
Their beauty is more than skin deep too! Professionally built and installed PVC-U windows are also an effective line of defence against intruders. High security comes as standard with all our products but we can also provide features and accessories to repel all but the most determined and professional intruder.
Each frame is individually designed to include reinforcement where structural strength is required.

Excellent thermal, acoustic and drainage properties. We provide a choice of glazing units for optimum thermal and sound insulation.